Personalized Home Décor That Add A Custom Touch to Your Home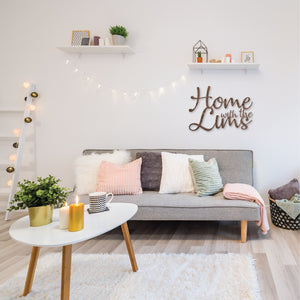 Congratulations! You've gotten the keys to your new home! What's next? Moving into your own space is all about making it truly yours. On the larger scale of things, interior design can reflect a whole lot about the owner's style. But if you are looking to create a space, a home that is reflective of your dreams, hopes and who you really are, incorporating pieces of personalized home décor can do wonders in that aspect.Wondering how you can get creative with personalized home décor? We scoured the Internet for and rounded up 5 popular home décor ideas you can consider.
1. Personalised DoorMats
What better way to make an impression on guests that visit your home for the first time than a personalized doormat? Reflect your personality with a funny quote "Hold on, we're probably not wearing pants", a welcoming phrase " Welcome to the Lim Family" or even a downright sarcastic quip " Hey! Don't wear no shoes in my house". And like many of the other personalized home décor options below, the sky is the limit as to what you want to include in the design. More :CATCHYGIFTSTORE
Got your keys to your BTO? Wondering how your friends and family are going to be able to find your home amongst all the similar looking units? These personalized acrylic door unit cut-outs are the solution! 100% customizable and handmade, you can design your door unit number in whatever style you like – Scandinavian, vintage, industrial and more. Take the chance to make them larger than the standard HDB unit number – your parents and relatives with bad eyesight will also thank you for it! More : Customised Home Unit Number Sign
What better way to display the importance of family in your home than with this customized laser cut family name sign? Lightweight and easy to display, you can put it up at any prominent spot in your home— from the front door, to your living room and more. Bonus: It can double up as a convenient backdrop for family gatherings during CNY. More : Chinese Surname Plaque 
4. Bespoke Wire Word Art 
Are there any words that you live by? Transform your favourite quote, song lyrics or life motto into a unique piece of home décor that reflects your personality with a few words and serves as a statement art piece. Win-win. Did we also say how incredibly Instagrammable it would look? More : Bethwireworks

4. Engraved Cutting Board
Perfect for the home chef who enjoys cooking as much as they enjoy eating! What better way to showcase your love for food in your kitchen than a personalized engraved cutting board? Stick with a simple monogram or go crazy with the design. It could also serve as a pretty backdrop for those #cookingprep Instagram moments.
Personalized coasters, wine glasses, mugs and more. We could go on and on with this list, but we won't be naggy. We hope this simple round-up of our favourites have helped spark some inspiration for what you plan to do to personalize your space at home. More :
 personalizationmall
At SHOPKUSTOMISE, we also offer laser cutting and engraving services, so do feel free to drop us a message if you think we can be of help to you!